Post Office Plaza
1500 W. 3rd St.
Cleveland, OH 44113
Phone: 216-736-7646
Post Office Plaza (formerly the M.K. Ferguson Building) originally opened in 1934 as Cleveland's main post office building and is now listed on the National Register of Historic Places. Medallions adorning the Historic Lobby walls depict the history of mail transportation, from foot carriers to the pony express to air mail.
Opened/acquired: 1990
Size: 476,000 square feet
Location: As part of Tower City Center, Post Office Plaza is right next door to the city's best dining, shopping, luxury hotels and public transportation.
Click here for additional Leasing information.
Local Leasing Company
CBRE
950 Main Avenue, Suite 200
Cleveland, OH 44113
Phone: 216-687-1800
Fax: 216-363-6466
Mary Izant or Connor Coakley or
Management Company
Marianne Compton, General Manager
Forest City Commercial Management
50 Public Square
Suite 1515
Cleveland, OH 44113
Phone: 216-416-3908
Fax: 216-416-3916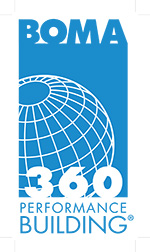 BOMA 360 Performance Program Property