Skylight Office Tower
1660 W. 2nd St.
Cleveland, OH 44113
Phone: 216-736-7646
Skylight Office Tower is an exclusive corporate environment for those who can appreciate the value of success. Entrances within its concourse welcome tenants into the office lobby that's lush with deep chestnut Italian granite, black marble and mahogany.
As part of Tower City Center, the 12-story Skylight Office Tower is right next door to the city's best dining, shopping, luxury hotels and public transportation.
Opened/Acquired: 1991
Square Footage: 321,000 square feet
Sustainability: Skylight Office Tower is targeting LEED certification for Existing Buildings: Operations & Maintenance. It is also ENERGY STAR certified.
Location: Located at Cleveland's Public Square and stretching to the banks of the Cuyahoga River, the 34-acre Tower City Center is one of the largest mixed-use developments in the nation.
Click here for additional Leasing information.
Local Leasing Company
CBRE
950 Main Avenue, Suite 200
Cleveland, OH 44113
Phone: 216-687-1800
Fax: 216-363-6466
Mary Izant or Connor Coakley or
Management Company
Marianne Compton, General Manager
Forest City Commercial Management, Inc.
50 Public Square
Suite 1515
Cleveland, OH 44113
Phone: 216-416-3908
Fax: 216-416-3916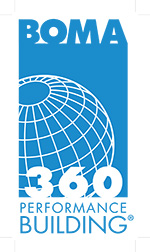 BOMA 360 Performance Program Property